thebabaorchestrA "marigold" album release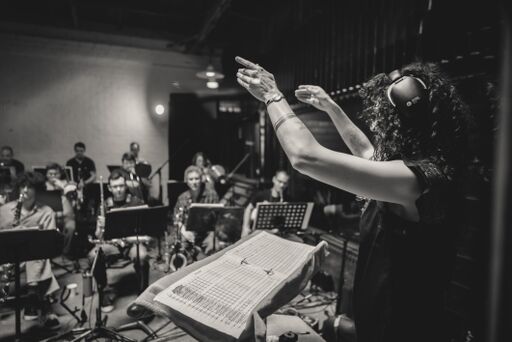 [Lauren] Elizabeth Baba is a violinist, violist, composer, arranger, and improviser living in Los Angeles specializing in performing and composing creative improvised music as well as jazz, classical, folk, avant-guarde, chamber, pop, and experimental styles.
Baba is composer, conductor and director of her 17-piece experimental big band, theBABAorchestra. Features include Downbeat, JAZZIZ, 2012 ASCAP Young Jazz Composer Award for original big band composition "144" and commission by Los Angeles Jazz Society through 2018 New Note Artist Award, premiering at 2018 Angel City Jazz Festival.
thebabaorchestra "marigold" album release
Thirsty Owl Records | Slow & Steady Records
Marigold was commissioned by Los Angeles Jazz Society through 2018 New Note Artist Award and premiered at 2018 Angel City Jazz Festival at Ford Theater, Los Angeles, CA.
Marigold delivers a powerful journey of intuitive unpredictability inspired by Baba's family immigration story from Syria & Greece. Marigold embodies the emotional process behind the persistent drive to cultivate the freedom to create without fear. It is a narrative of perseverance to finding peace and initiating growth by virtue of change and adversity; knowing there is a continuous flow of creativity, understanding, equality, and limitless boundaries present for all of us in each moment. Produced by Baba, Marigold was recorded live in the studio – a 45-minute un-doctored real-time performance – presented as a long-form suite in 4 continuous movements; representing the nature of Marigold's conception as "a loop – no beginning or end – exploring through-composition + improvisation and continuing the search to conceptualize time + music + existence – understanding that the past, present, and future are simultaneous experiences." This loop represents our emotions and stories through perseverance; experiences that can happen in an instant or for eternity or anywhere in-between. Baba's complex and thoughtful compositional voice captures moments of vulnerability, depth, and introspection through layers of driving rhythms and esoteric melodies intertwined with an intuitive play on timing and expectation; delivering an emotionally powerful and immersive listening experience.